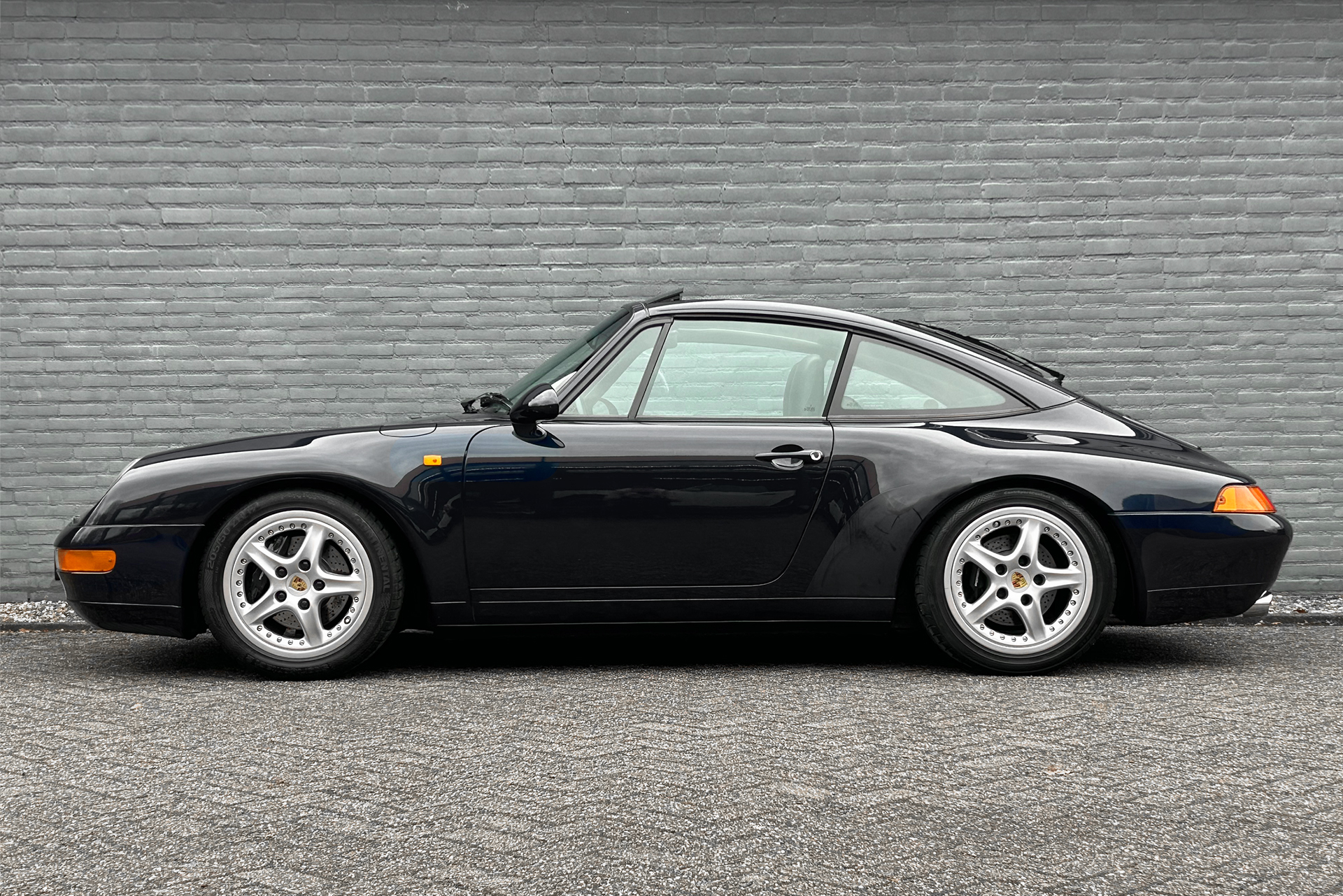 | | | | |
| --- | --- | --- | --- |
| Brand: | Porsche | Engine: | Boxer |
| Model: | 911 - 993 | CCM: | 3600 cm3 |
| Type: | Carrera | Power: | 286 hp |
| Body: | Targa | Cylinders: | 6 |
| First registration: | 03 / 1997 | Transmission: | 6 speed Manual |
| KM: | 115.000 | Exterior color: | Midnight blue |
| | |
| --- | --- |
| Brand: | Porsche |
| Model: | 911 - 993 |
| Type: | Carrera |
| Body: | Targa |
| First registration: | 03 / 1997 |
| KM: | 115.000 |
| Engine: | Boxer |
| CCM: | 3600 cm3 |
| Power: | 286 hp |
| Cylinders: | 6 |
| Transmission: | 6 speed Manual |
| Exterior color: | Midnight blue |
DETAILS
Manual Transmission.
Full Porsche dealer service history.
Lovely classic color combination.
FACTORY SPECIFICATIONS
Midnight Blue.
Full leather Black.
FACTORY OPTIONS
425 Rear Wiper.
490 Sound System.
567 Top Tinted Windscreen.
602 3rd Brake Light.
659 On Board Computer.
982 Soft Ruffled leather (Raff).
P15 Electric Front Seats Options 437-438.
X70 Stainless Steel Entrance Panels With Model Typeface.
X71 Aluminium Dials.
HISTORY
This 993 was delivered new In March 1997 by Porsche Centrum Leusden. Since the 4 private caring owners. The last owner had it since 2018.
BODY AND PAINT
The body is accident and rust free. No corrosion on the Targa bars. All stickers in the correct places.
PAINT
The paint is partial original. The right side is once repainted for cosmetic reasons. No filler used.
The rear decklid is repainted because of the removal of the 3rd brake light. Always a matter of tase but I think it looks better without.
Beside normal stone chips scratches or dents.
INTERIOR
Very nice interior. Non smoking car.
Very clean matt leather with almost no wear.
Original Porsche Armrests, Aluminium shifting knob and the Porsche Classic radio are added later.
TECHNICAL
This Porsche has a perfect service history.
3-1998 13.626km Porsche dealer.
4-1999 22.496km Porsche dealer.
5-2001 40.361km Porsche dealer.
2-2005 64.023km Porsche dealer.
3-2007 75.697km Porsche dealer.
4-2010 86.915km Porsche dealer.
5-2014 100.825km Porsche dealer.
2-2016 106.887km Porsche dealer.
4-2018 107.142km Porsche dealer.
9-2018 107.218km Porsche dealer.
10-2020 110.287km Porsche dealer.
9-2021 112.956km Porsche dealer.
9-2022 113.548Km Porsche dealer.
WHEELS
The wheels are in an outstanding condition. No corrosion, almost no scratches.
New Michelin tires with N code will be fitted before delivery.
THIS 993 COMES WITH
Original books with stamps and sticker.
2 original keys.
Original dutch registration.